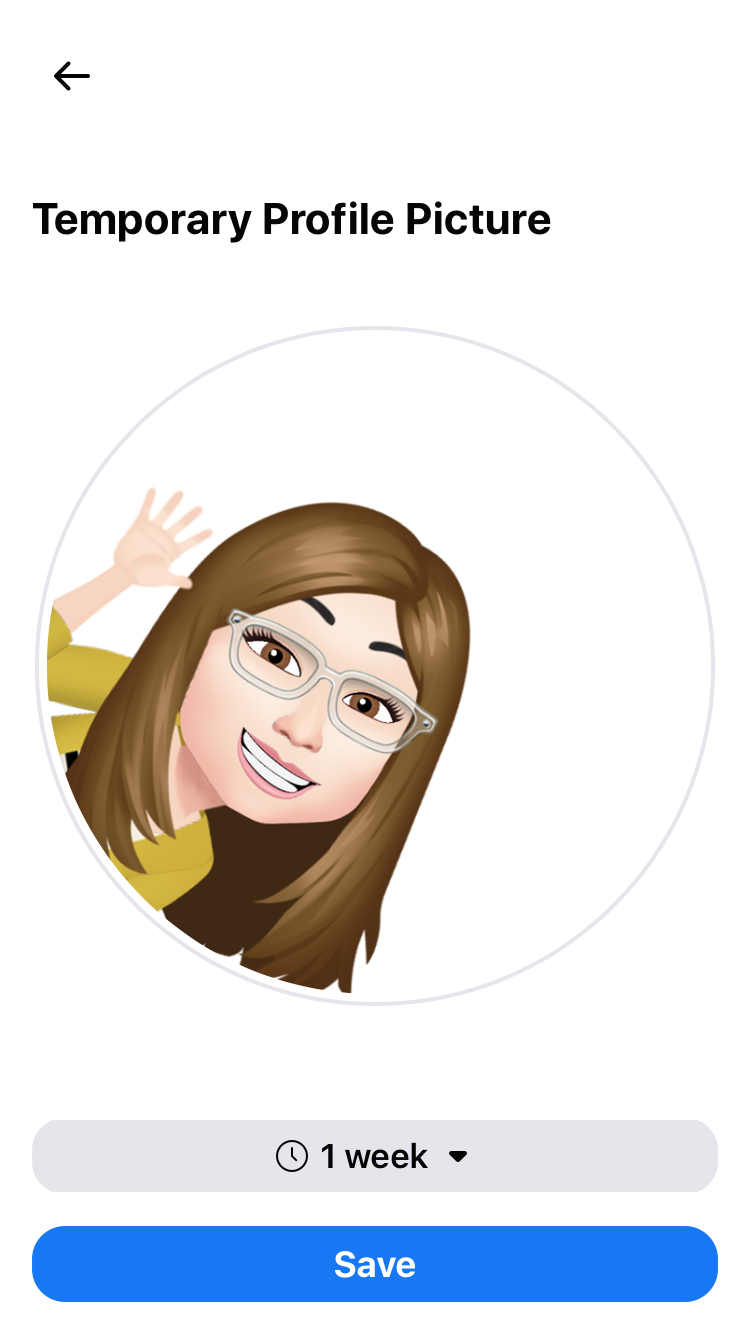 Maria McCormick
UX Designer | Product Designer
Empowering seniors
to stay connected
and active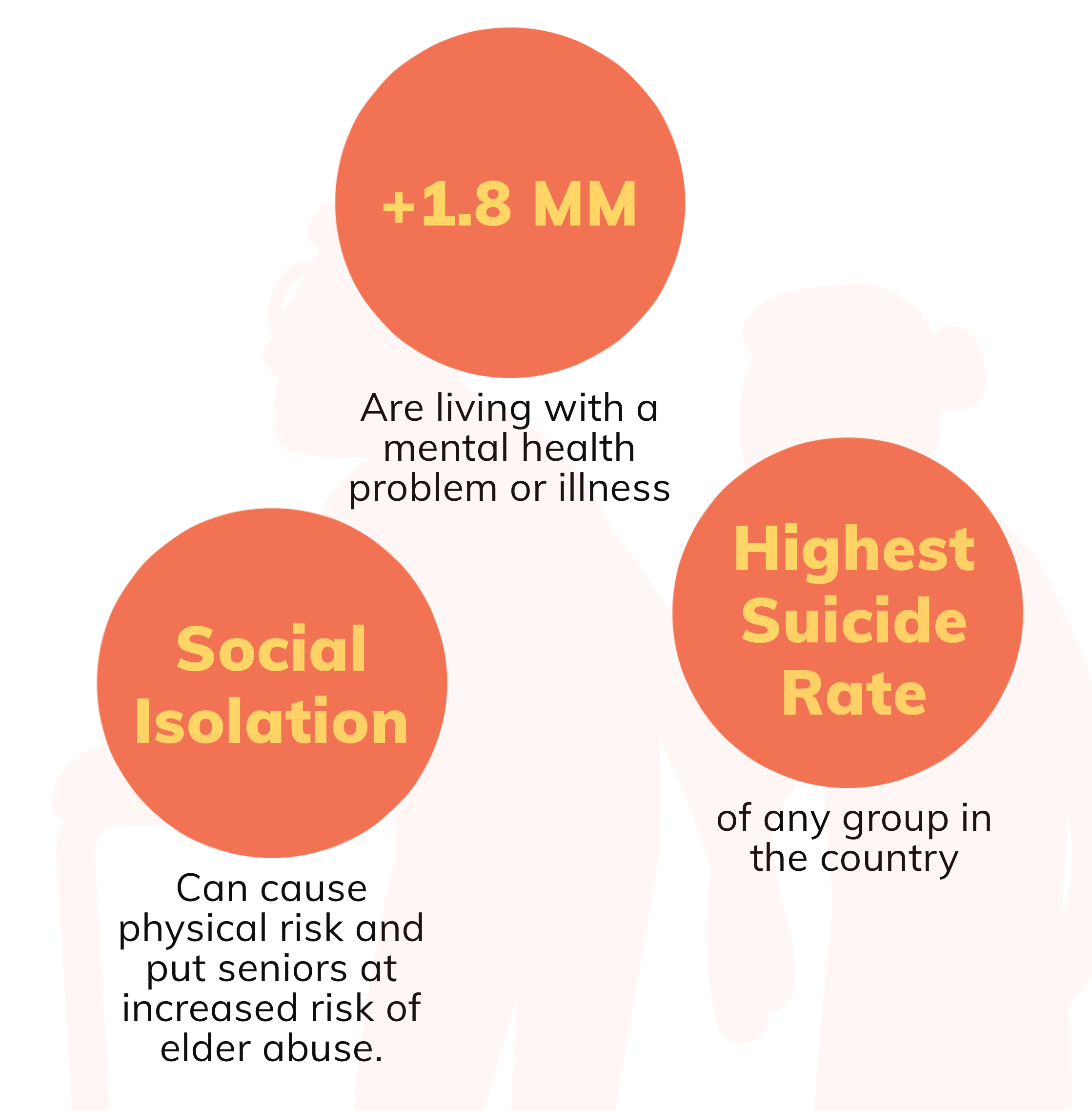 The Problem
Older adults experiencing loneliness and isolation find it difficult and frustrating to create fulfilling, trusting and supportive relationships within their local communities.

The Challenge
How might we improve the overall social life of the elderly generation within their local communities?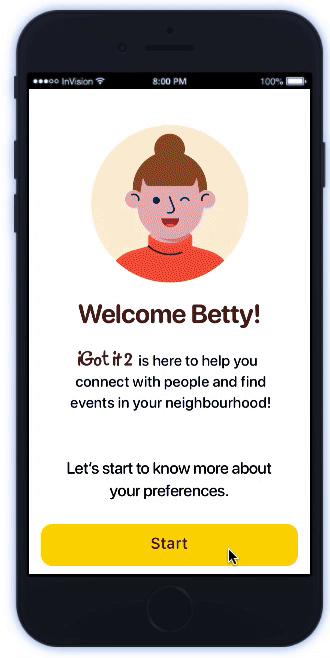 The Target
Retired adult people (any gender)+ 65 years

Living in Ontario (non-residential care facilities)

Own a smartphone

and experiencing loneliness and isolation.
The Solution
A mobile application that empowers seniors to stay connected and active by helping them find social gatherings in their neighbourhood.
Seniors will be able to search events based on their interests, register, share info with friends, manage favourites and receive reminders to ensure their attendance and engagement.

Understanding the nature of the problem through the lens of human-centred design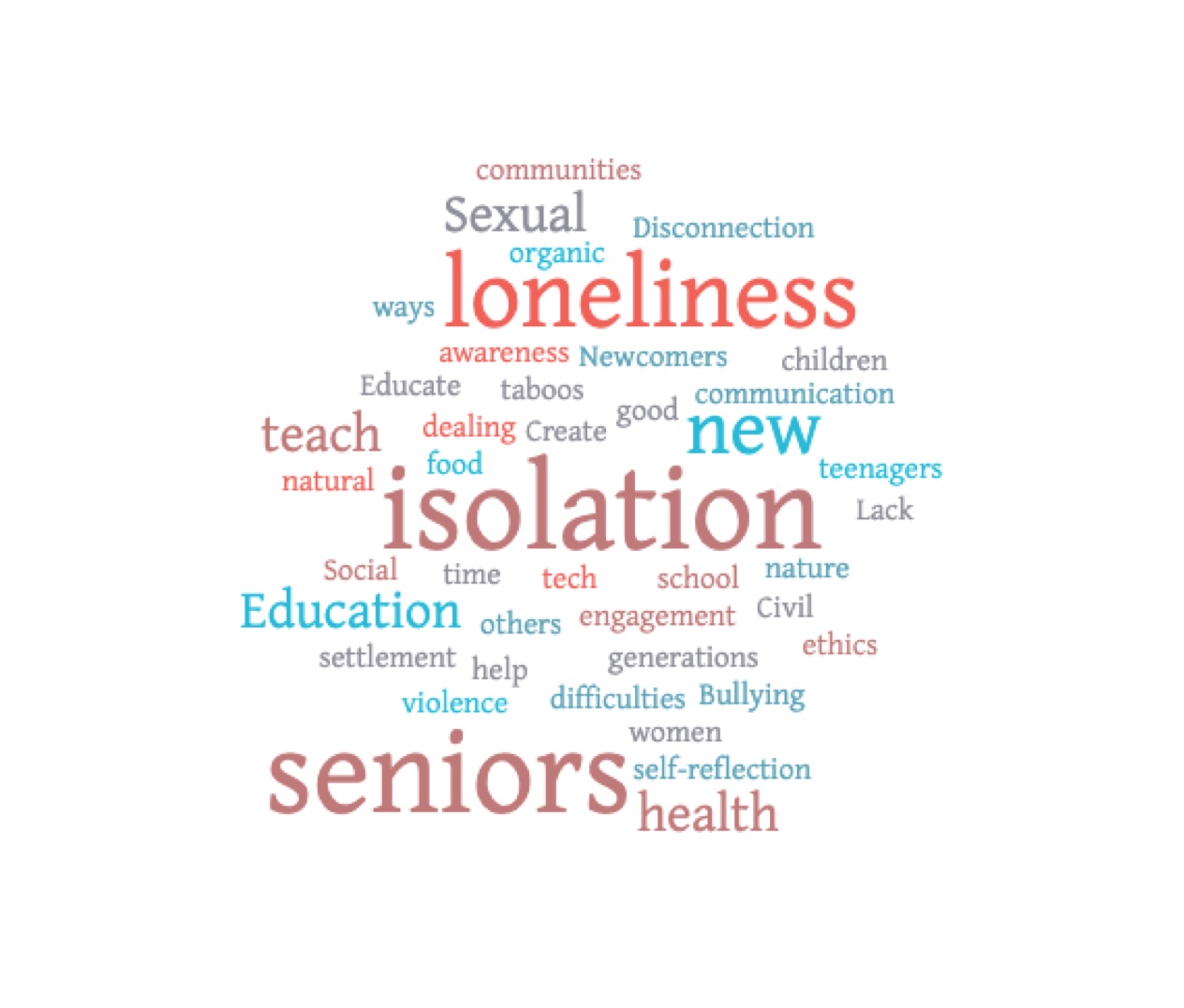 Why did I choose this problem?
I started by putting in a list all the recurrent problems I have observed in my life that needed to be solved as the positive impact would be more expansive.
I prepared a word graph and left my subconscious talks to me, and it came up with three major common topics: Isolation, loneliness and seniors.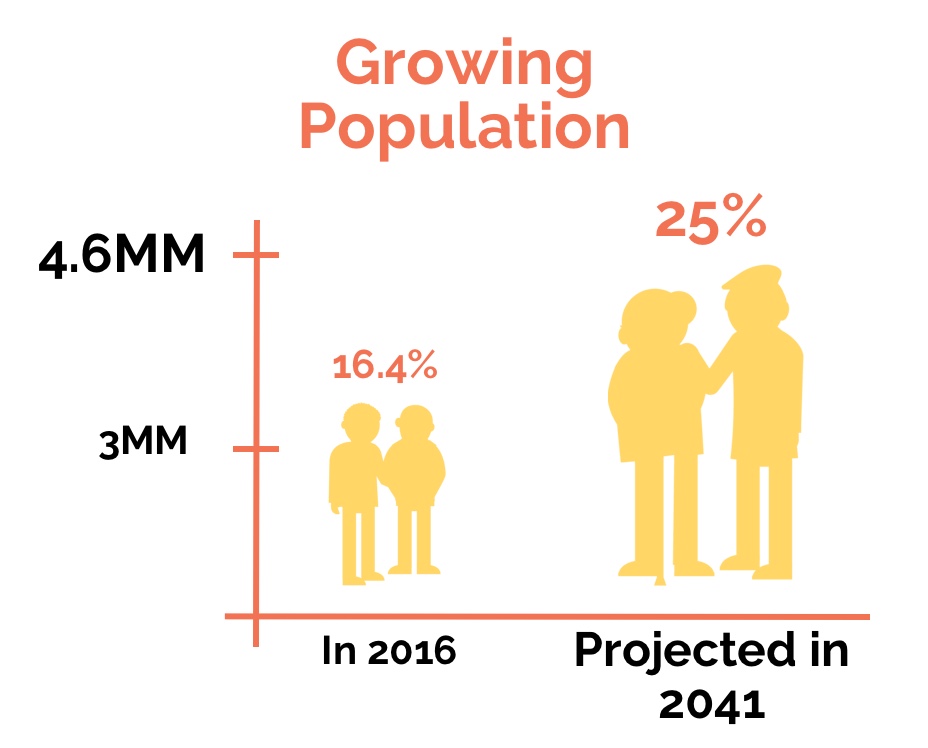 Framing the problem space
I started the discovery phase by reviewing available information from mental health institutions, Canada stats about the seniors' population and accessible programs for seniors supported by the Ontario government.
Secondary Research
I summarized the finding in three key topics: Growing population, technology usage and mental health.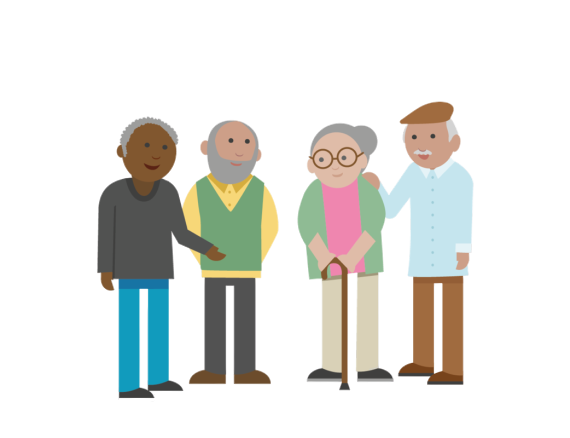 Project constraints
Technological
Limited understanding of how older adults use smartphones.

Adults use fewer apps and take longer to complete tasks.

Unknown correlation between cognitive decline and smartphone use.
Socio-Cultural
Concerns about security risks associated with a mobile device.

Ageism can influence the elderly's attitudes regarding their role in society.

Cultural background influences seniors' involvement in family matters and decisions.
User Research: Interviews
Due to the tight timelines, I decided to do five remote interviews via WhatsApp and Skype, 30 minutes each. I multitasked by recording the audio, asking questions and observing their reactions. I wanted to get a better understanding of:
Social Connectedness
Memberships and professional groups that they're associated with

Prefer communication medium

Frequency of visits from friends or relatives

Willingness to get connected

How are perceived the benefits of being active
Routines and active lives
A regular day in their life

Challenges to be more active and engaged with others

How to get informed about all the events or activities in your neighbourhood

Willingness to participate in activities where they might teach others or learn from others.
Organizing the notes using affinity diagrams and empathy map to identify opportunities based on their pain points and motivations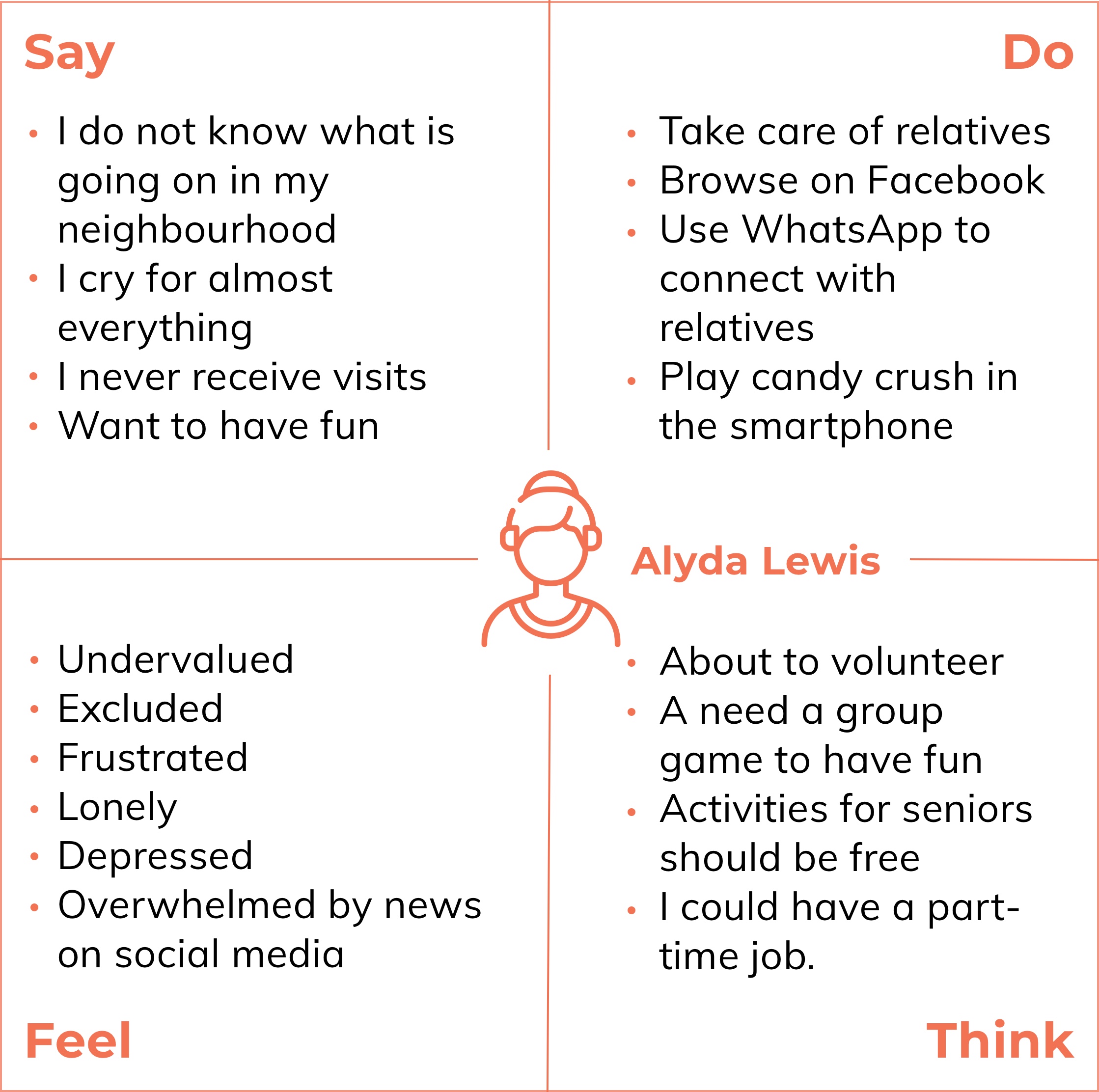 Analyzing the interview insights
I collected qualitative and attitudinal data directly from the interviewees to find their pain points, behaviours and motivations.
I understood seniors' experiences while managing their daily activities and overall social life within their local communities.
I have used two tools to find patterns in the chaos of having tons of information:
Empathy Map

Affinity Diagram
Social Connectedness
📌 Frustrating to find volunteering or part-time paid jobs to keep active
📌 Preference for in-person relationships
Lack of Tech Knowledge
📌 Low level of expertise to use smartphones.
📌 Recurrent questions about functioning on their phones because they forget instructions quickly.
Entertainment
📌 Activities offered in the community centre are focused on children.
📌 Willing to spend time playing table games such as cards, scrabble, among others.
Information needs
📌 Get informed about activities and events in my neighbourhoods is frustrating.
📌 Finding information about events in my community in social media apps is overwhelming.
Primary Persona: Betty Smith
The purpose of creating the persona was to focus on Betty's goals, individual characteristics, and attitudes.
Based on the interviews' insights, I created the primary persona and secondary personas: Betty and John.
As a first stage to move to the ideation step, I sketched out an idea of how Betty may use a feature creating a storyboard and imagining Betty's environment and how she would find a workshop, register in and attend this activity with her friend.
Proposing a solution to the problem, which in some way disrupts the status quo.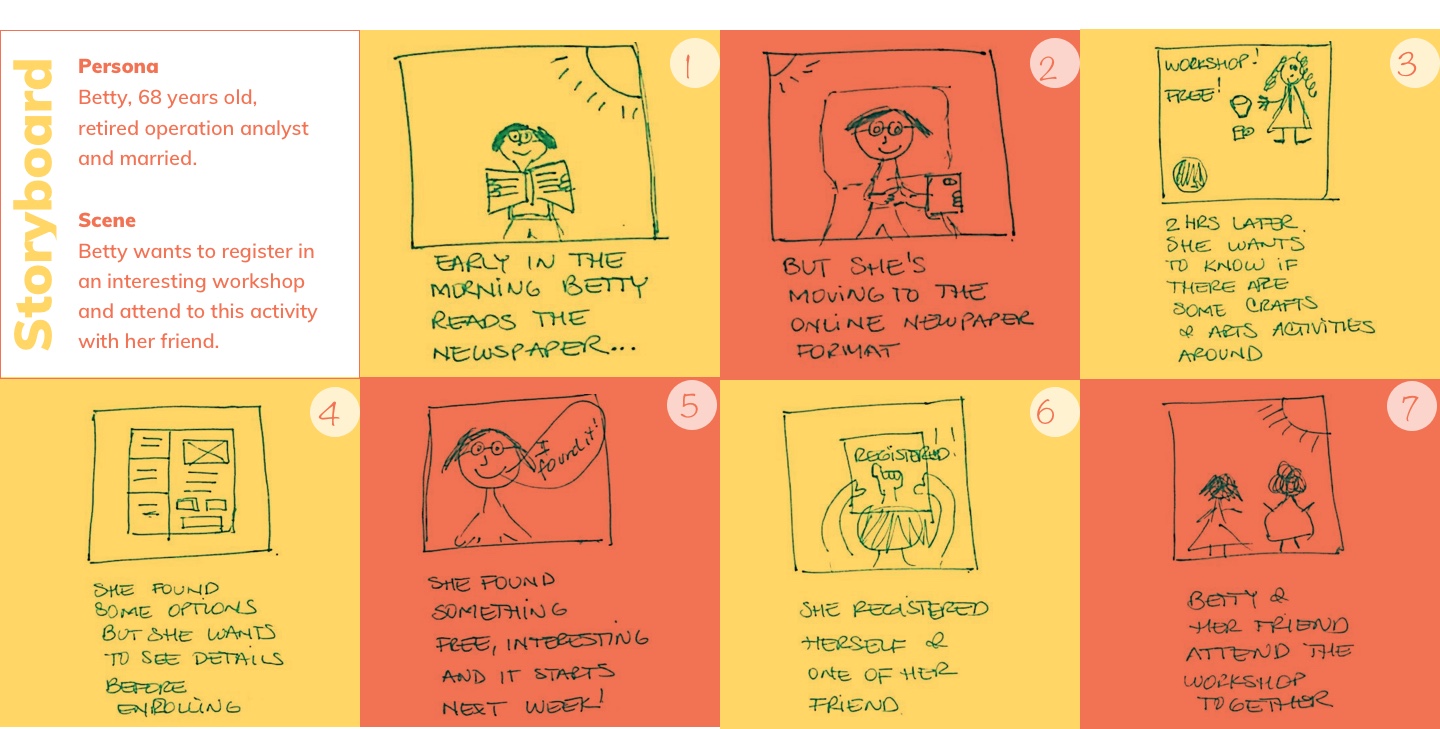 Step 1: How Might We technique
I started by breaking my problem statement into smaller actionable pieces.

I created a seed broad enough that there was a wide range of solutions, but narrow enough to have some helpful boundaries.
Step 2: Turning assumptions into questions
My assumptions
Seniors are willing and motivated to be engaged with their communities

Older adults need to be socially connected with their communities to build more fulfilling relationships

Seniors' needs can be solved by providing them with tools to get connected and active in their daily activities
turned into HMW questions
How might we improve the overall social life of the elderly generation within their local communities?
Step 3: Hypothesis statements
It is a way of expressing assumptions in a testable form. I aimed to either proven or disproven through prototyping and testing.
I believe that sharing valuable information about social events within their neighbourhood for seniors (65+) will motivate them to participate in those activities and engage with their community.

I believe that attending social events within the neighbourhoods for seniors (65+) will create fulfilling, trusting, and supportive relationships within their local communities.

I believe that providing a platform that manages events and reminders for seniors (65+) will increase social connectedness by ensuring registration and attendance.
Step 4: Tackling the issues that would be alleviated
To match pain points with potential features that would solve and would benefit directly to users.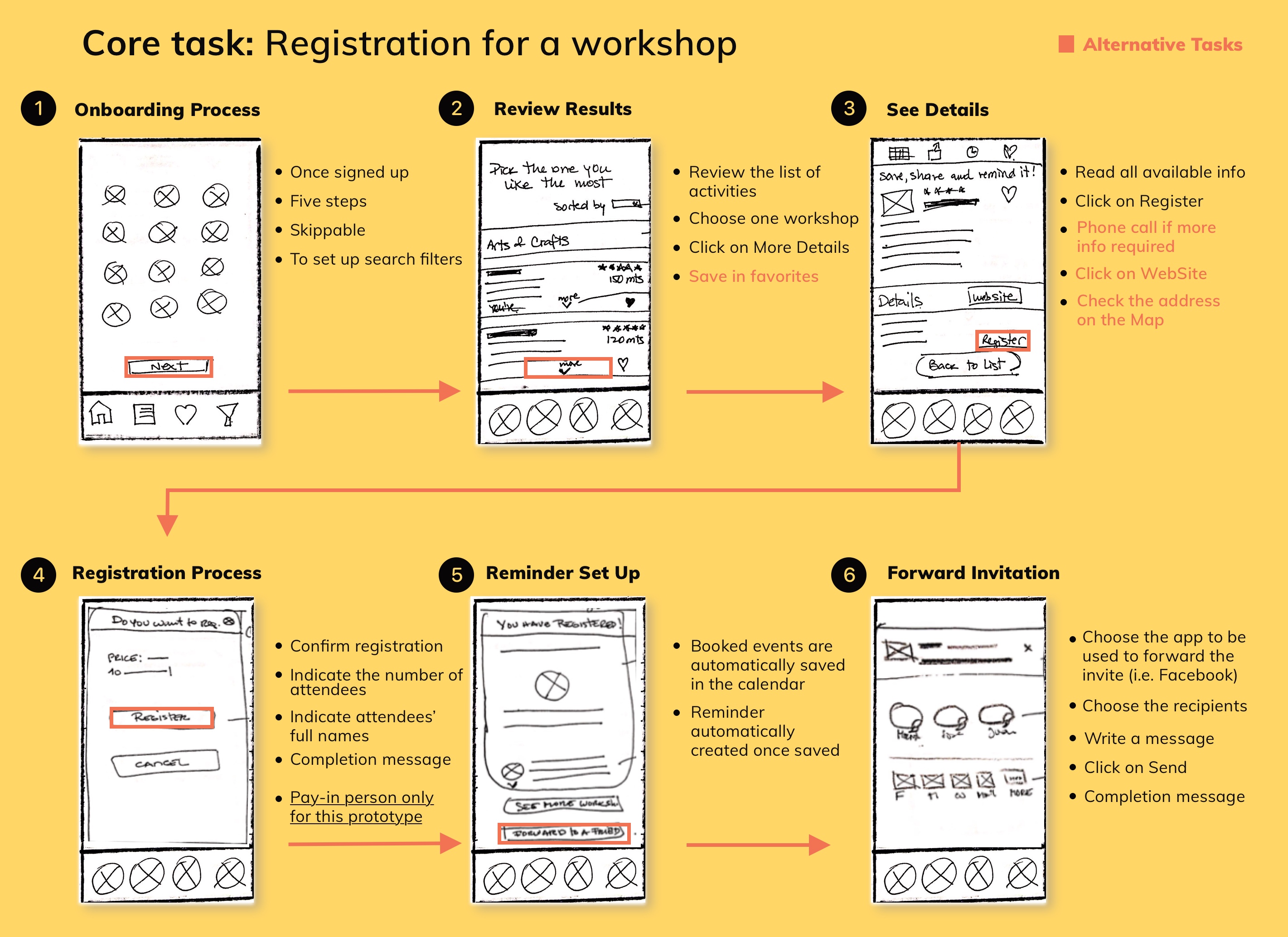 Digital Wireframes
The initial six screens became seventeen screens once I included the full registration process interaction to the Wireflow.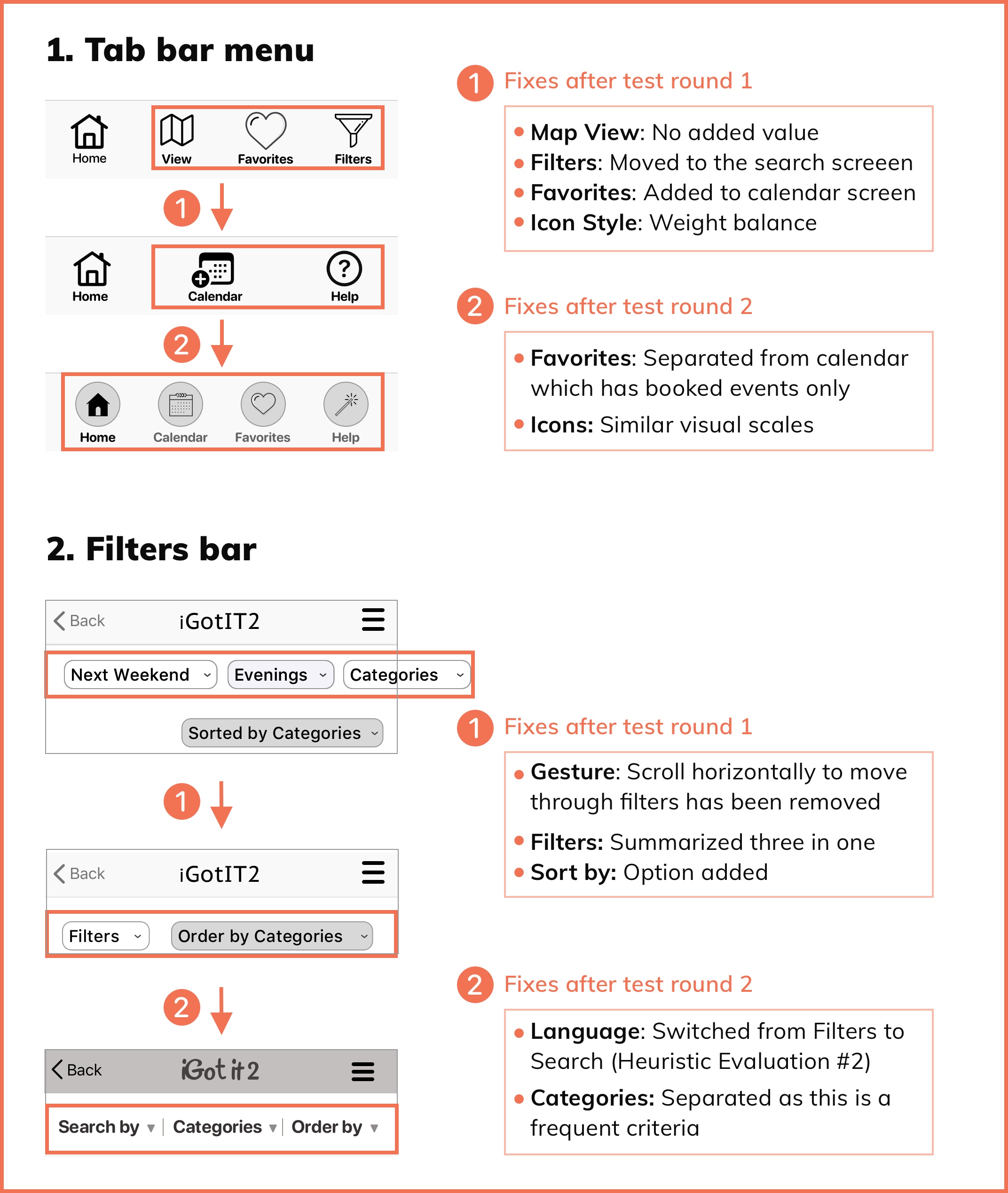 Usability Testing
I performed five remote individual testing sessions via Skype and 2-round testing to reveal usability problems.
I applied changes to my wireframes after each round. I summarized the issues and mapped them in a graph to chose to top the problems with higher user value and less effort to fix them within my time constraint.
Summary of relevant insights that impacted the wireframes:
Tab bar menu

Filters bar

Welcome screen

Search screen

Onboarding process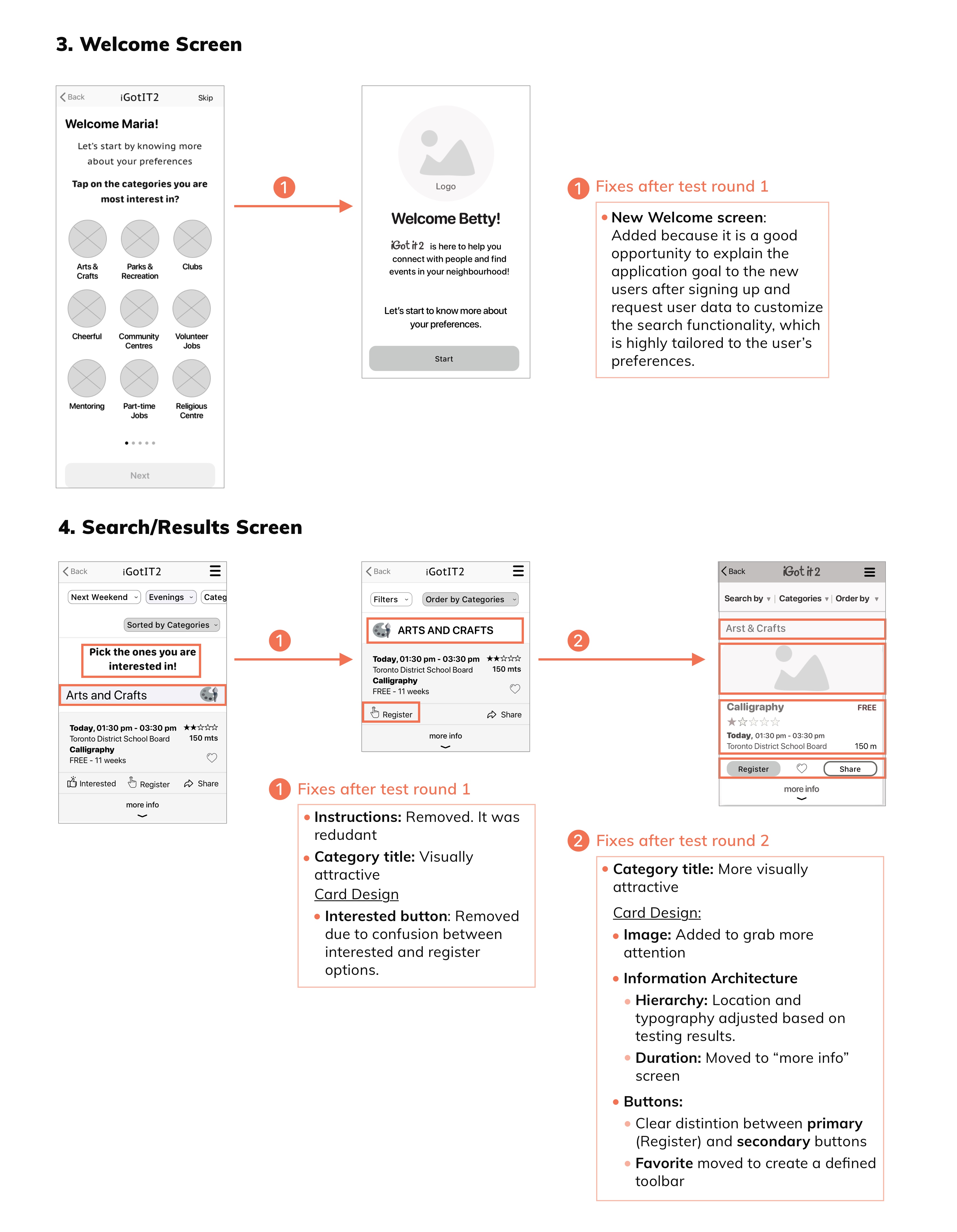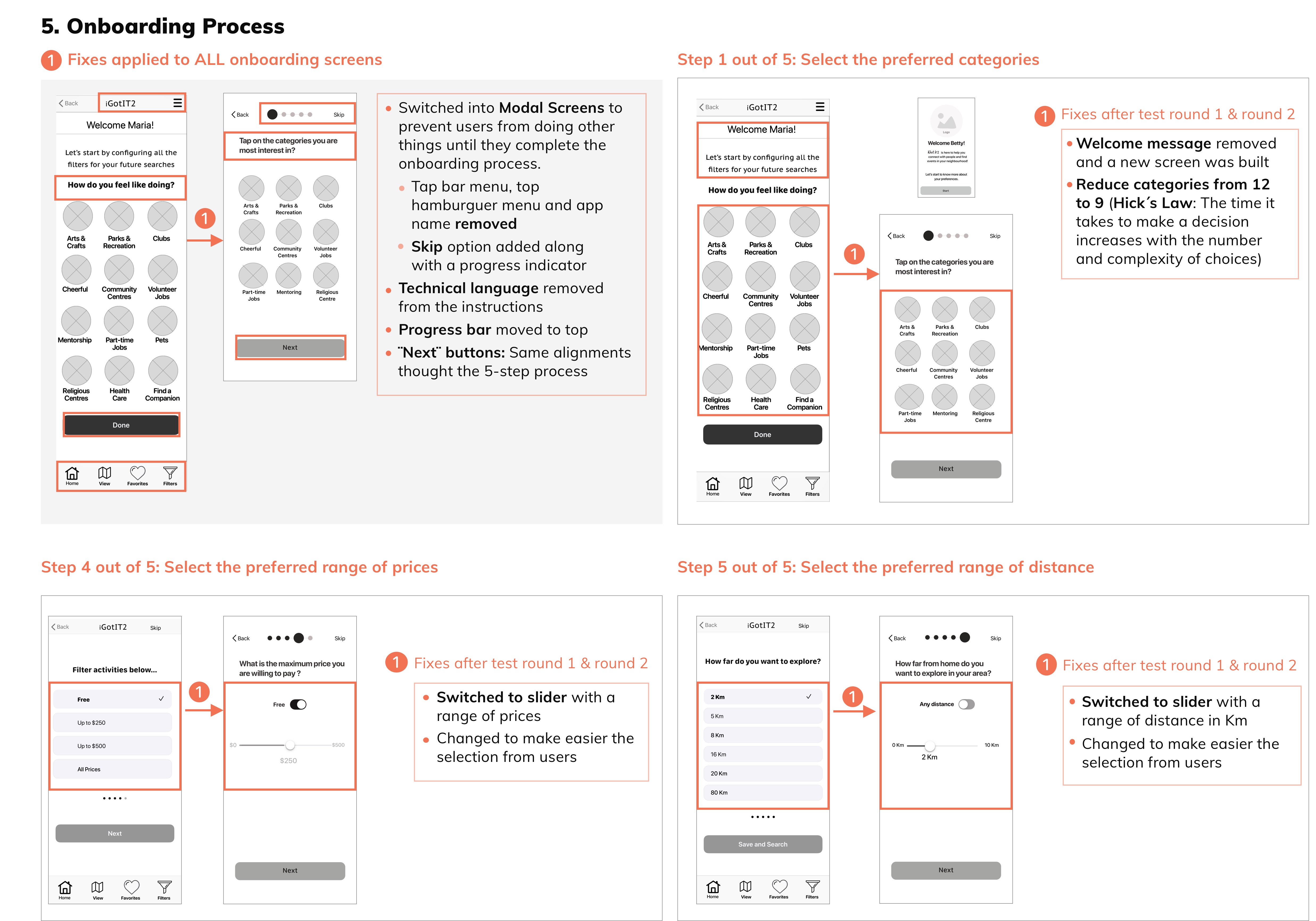 UI Design/Mood board
"Color is a power which directly influences the soul" - Wassily Kandinsky.
I first started by creating my mood board, having in mind that.
My brand embodies:
Belonging

Welcoming

Community

Social connectedness
My brand is
More summer than fall

More bright than neutral

More active than calm
The Logo
Why this logo?
When the sun shines, people want to go out! Social connectedness

Sunglasses for protection, prevention, conservation. Seniors are more careful while enjoying life.

Sun rules the natural life cycle; adult people have a role to perform in society and belonging.

Sun shines for everybody; we are all part of a big community.
The App Name
What about the app name? iGotit2
i: First-person pronouns and also used in digital products such as iPhone.

Gotit evokes to "I already knew the thing before you told me."

2: Shortly way say too.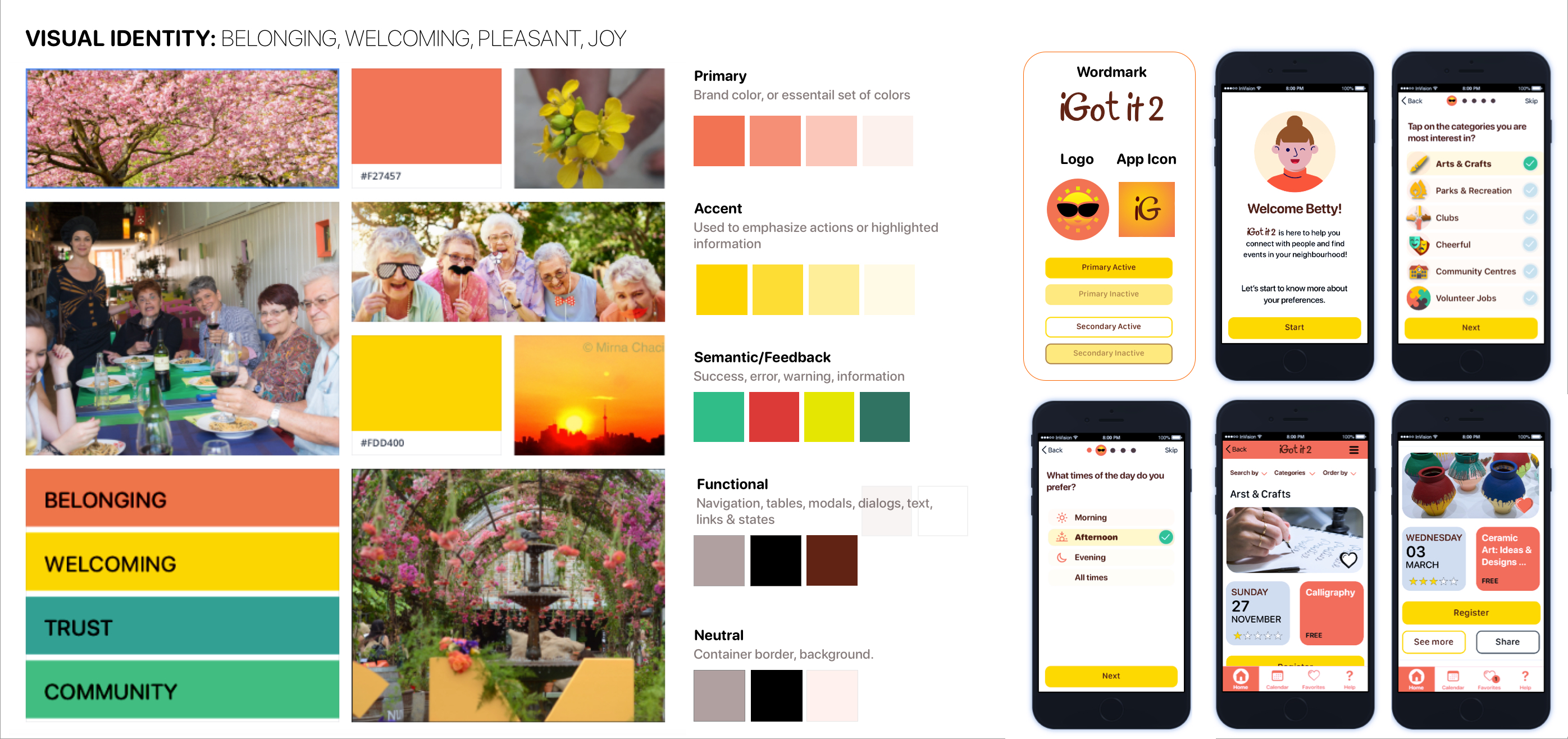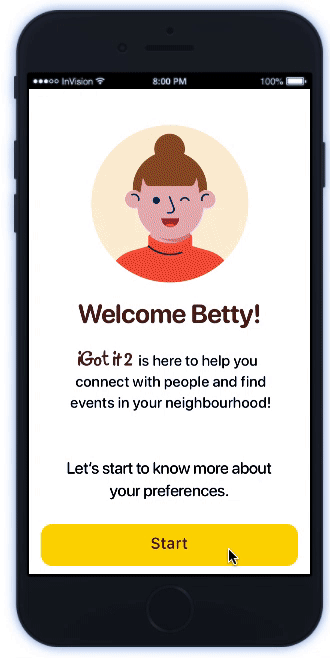 Interactive Prototype
The core tasks activities tested and included in the final prototype are:
Onboarding process: Five steps.

Search events based on their interests.

See details.

Register in events or workshops.

Share the events/workshops with friends.

Save and Manage their favourites.
Product Marketing Website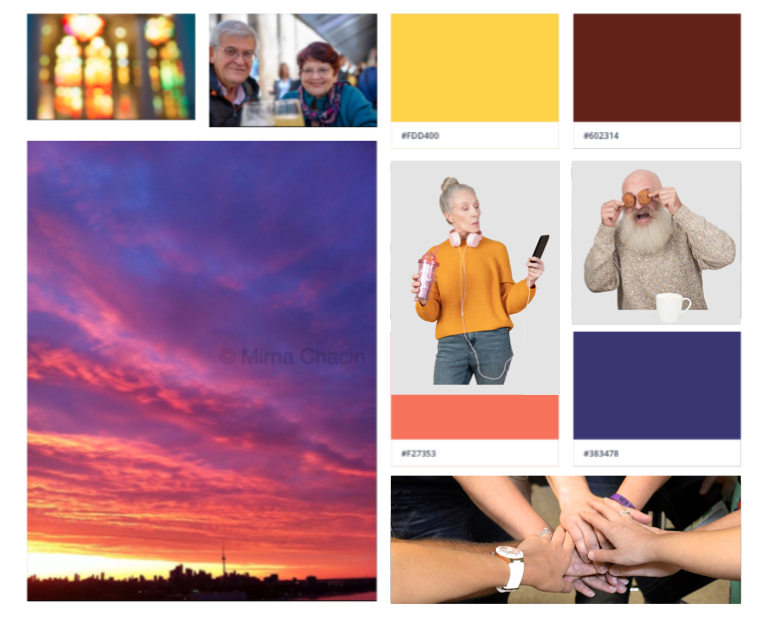 Branding
I was looking to establish a sense of social connection with partners, small and more significant groups, diversity through sunrise colours and having fun with people.
My branding aims to
Connect with seniors to build trust by clearly explaining what the app is for and how it works

Empower them to take control of their lives and have fun with friends

Convey a lifestyle such as spending time with friends, relatives, being active and independent.
Marketing Website page
Scroll down over the image to see the full site.
What have I learned from this project?
Believe in the design process because it works.

Be focused on the users' needs and pain points.

Early interactions and testing with end-users are crucial to confirm the hypothesis.

Be open to receiving feedback; it makes UX Designers stronger
What could be better?
Improve the information hierarchy as currently register/ like/ and share buttons all seem to be of the same importance level. The main goal for users is the find and book events in their neighbourhoods.

Attempt to place a call needs more improvements to meet standards with iOS design guidance.

Look for a more consistent card organization layout, especially for the booking process.
A big thank you to my partner in crime, to the teachers, teacher's assistants and my peer students for all the critiques and positive feedback from them and for sharing all their knowledge gained from all different backgrounds!